27 septembre 2011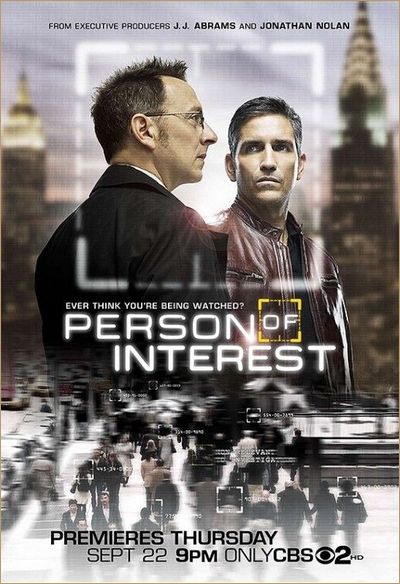 Pilot // 13 330 000 tlsp.
What About ?
Mr. Reese, un ex-agent paramilitaire de la CIA présumé mort et devenu un sans-abri qui erre sans but dans les rues de New York, est recruté par Mr. Finch, un millionnaire reclu, lui-même présumé mort, pour travailler sur un projet top-secret visant à protéger des personnes en danger de mort, dans le dos du Gouvernement...
Who's Who ?
Créée par Jonathan Nolan (Memento, Le prestige, The Dark Knight) et J.J. Abrams (Alias, Lost, Fringe). Avec Jim Caviezel (Le Prisonnier 2009, La Passion du Christ), Michael Emerson (Lost, Saw), Kevin Chapman (Rescue Me, Brotherhood), Taraji P. Henson (Boston Justice, Eli Stone)...
So What ?
Alors qu'Unforgettable, l'autre nouveau drama de CBS, n'est qu'un énième cop-show au twist bancal qui n'apporte strictement rien, Person Of Interest propose enfin une alternative à ce que les téléspectateurs connaissent déjà par coeur en offrant une formule efficace et ambitieuse, qui consiste non pas à résoudre des crimes mais à les empêcher; des héros charismatiques, suffisamment mystérieux pour que leur histoire nous importe et pas que le temps de quelques épisodes; et l'ouverture vers une mythologie comparable à ce que l'équipe de J.J. Abrams a fait avec Fringe. On commence "petits bras" afin d'accrocher le téléspectateur, puis on montre les muscles une fois qu'ils sont acquis à notre cause. Voilà enfin une série policière de network qui prend des risques et transcende le genre auquel elle appartient. Pas trop tôt...
Person Of Interest raconte avant tout l'histoire d'une machine secrète inventée par le Gouvernement américain après les attaques du 11 Septembre, dont le mécanisme consiste à entasser dans des banques de données gigantesques toutes les informations reçues grâce aux caméras de surveillance et aux micros cachés à travers tout le pays, et ici, plus particulièrement à New York. Cela est censé permettre en premier lieu d'éviter de nouvelles tragédies comparables à la destruction des tours jumelles, mais celui qui a conçu la bête s'est rendu compte qu'elle pouvait avoir une autre utilité. Il se transforme alors en Zorro des temps modernes avec son nouvel équipier afin de combattre le crime et sauver des vies, ce que tous deux n'ont pas pu faire par le passé avec des êtres qui leur étaient chers. On se retrouve alors au beau milieu d'une jungle de visages, de corps et de voix inconnus dans la paranoïa la plus totale. La réalisation, correcte mais pas incroyable, retranscrit bien cette sensation d'étouffement. L'aspect addictif de la série se dévoile peu à peu, ainsi que toutes les possibilités qu'elle est capable d'engendrer, en plus d'une critique politique succincte mais intéressante.
Ainsi, Person Of Interest ne se contente pas d'être rythmée et prenante, elle est aussi... intelligente ! Jim Caviezel, peut-être un peu trop en dedans dans ce pilote, et Michael Emerson, encore trop proche de Benjamin Linus, sont néanmoins très convaincants et leur duo possède un potentiel énorme qui ne demande qu'à être exploité. On en sait suffisamment pour que notre curiosité soit piquée, mais trop peu pour s'en contenter. C'est souvent comme cela qu'une grande série commence...
What Chance ?
CBS a pris un véritable risque en proposant la série le jeudi à 21h en lieu et place de ses sacro-saints Experts premiers du nom, lequel a été payant la première semaine mais risque de ne pas l'être sur la longueur, surtout si elle venait à se complexifier...
How ?