28 mars 2013
Because The Night // 2 650 000 tlsp.

---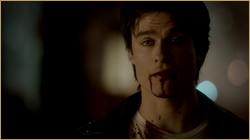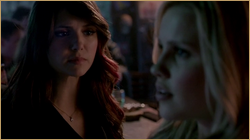 Pour la première fois depuis les premiers épisodes de The Vampire Diaries, je me pose sérieusement la question de mon avenir avec elle. Rupture à l'amiable en fin de saison ? Rupture brutale avant même qu'elle ne se termine ? (Non, ça je n'en ai pas la force ni le courage) Ou je lui laisse encore une chance ? Elle va finir par m'avoir à l'usure là... Cette saison 4 est tellement décevante, et chaque semaine un peu plus encore. Because The Night était d'un ennui abyssal à Mystic Falls. J'ai complètement décroché au bout de cinq minutes de séquences avec Bonnie et Silas. Même si je sais que j'ai des problèmes à la base avec les sorcières -sans doute à cause de la nullité de Charmed qui m'a traumatisée à vie- je ne peux pas tout mettre sur ce compte-là. C'était vraiment inintéressant, on est d'accord ? Déjà, le fait que Silas garde l'apparence de Shane me crispe au plus haut point. Je hais ce Shane. Impossible de faire la distinction entre les deux personnages du coup. Pour moi, c'est le même mec sans charisme. Si sur le long terme, Silas doit prendre la place de Klaus -et c'est bel et bien ce qui se met en place à la fin de l'épisode- il va falloir muscler tout ça, et pas que physiquement. En parallèle, la relation entre Klaus et Caroline est en train d'être tuée dans l'oeuf, sans doute parce que Hayley et The Originals attendent tranquillement leur tour qui ne saurait tarder. De toute façon, même s'il y a une vraie alchimie entre ces deux-là, ça ne pouvait pas mener bien loin. Sur quoi va aboutir le dernier sacrifice de Caroline ?
A New York -enfin dans une rue commerçante d'Atlanta quoi- on s'amuse un peu plus, mais l'entreprise aussi divertissante soit-elle est un peu vaine. On nous trace à nouveau un parallèle entre le passé de Damon et la situation actuelle d'Elena. Ce n'est pas d'une grande pertinence. En revanche, c'est l'occasion de revoir une deuxième fois cette saison cette chère Lexi, de quoi regretter encore qu'elle soit partie si tôt. En plus, Stefan n'est pas là pour jouer les entremetteurs, on peut donc profiter du duo Lexi/Damon à fond. La chute est un peu rude, mais pas très étonnante. Elena et Rebekah forment aussi un petit duo sympathique de leur côté. Ca parle un peu trop chiffon au début, avec la nouvelle coupe de Nina Dobrev qui l'a fait vachement ressembler à Shiri Appleby je trouve -mais il faut dire que depuis Girls, elle m'obsède- mais ça devient plus intéressant par la suite. Enfin disons qu'on ne s'ennuie pas... Enfin bref. Ca fait passer le temps quoi.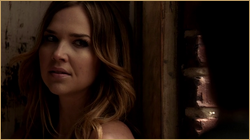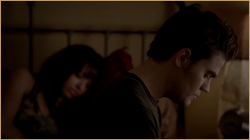 ---
// Bilan // Le sursaut de la saison 4 de Vampire Diaries n'était encore pas pour cette semaine. Dire que ça devient inquiétant est un euphémisme. Je suis en train de me détacher progressivement de la série et des personnages...