22 octobre 2010

Au programme cette semaine : Eva Longoria rappe, le retour des Misfits, les visiteurs amputés, les has-been prennent leur revanche (Lisa Rinna, Tori Spelling...), le jeu des 7 différences dans le 30 Rock Live...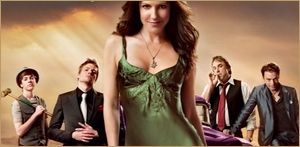 To Moscow, And Quickly //

---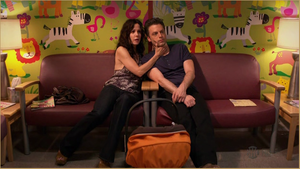 On abandonne les délires sans queue ni tête cette semaine dans Weeds pour laisser place à l'émotion et à la profondeur. Forcément, on s'amuse beaucoup moins et on s'ennuie même un peu par moment mais il faut des épisodes comme celui-là pour équilibrer la balance. Weeds n'est pas qu'une série fun, c'est aussi et avant tout une série subtile et merveilleusement dialoguée. La plus belle scène de l'épisode est sans conteste celle où Nancy, face à un vieux médecin, se rend compte qu'elle ne sait même pas si son enfant sourit souvent, tout simplement parce qu'elle ne s'en occupe pas. Le détachement a été progressif au fil de la saison mais clair. Voilà où les scénaristes voulaient en venir. Quelque part, j'ai un doute sur la pertinence du propos dans le sens où l'on sait déjà parfaitement que Nancy est une mauvaise mère terriblement égoïste. Où est la nouveauté ? Toujours est-il que c'était très émouvant et que Mary-Louise Parker a encore délivré une très jolie prestation. En revanche et contrairement à d'habitude, je n'ai pas trouvé la conversation dans la salle d'attente entre Nancy et Andy réussie. Ca manquait de piquant, c'était presque trop sérieux. Mais pour le coup le propos était inédit : quelle est la véritable place d'Andy vis à vis de Stevie ? Est-il un oncle, un père de substitution ? Et après la cavale ? Et quand arrivera le 4ème mari ? Qu'adviendra-t-il de lui ?
Puis ils sont partis sur cette idée folle d'aller vivre à Copenhague au Danemark ! Première surprise : ils connaissent cette ville ! Non mais on dit souvent que les américains ne connaissent rien à la géographie mondiale. Deuxième surprise : ça a l'air d'être du sérieux ! Il en est vraiment question... Je vois mal la série partir dans cette direction mais rien ne fait peur aux scénaristes de Weeds donc pourquoi pas ? Sinon, le duo Shane/Silas n'a pas fait de prouesses cette semaine mais il y avait quelque chose de touchant dans leurs intéractions. Sans doute un peu trop légère au final cette intrigue mais pas dénuée d'intérêt. Elle mettait en valeur l'esprit protecteur de Silas face à l'immaturité de Shane. Bon et puis Doug est très peu apparu et les quelques images qui lui ont été consacrées étaient... space. C'était presque drôle !
---
// Bilan // La saison 6 de Weeds commence à prendre une direction vague et dangereuse après avoir suivi un chemin presque-parfait jusqu'ici. Je reste optimiste mais je me demande bien de quoi seront faits les 4 derniers épisodes...