18 mars 2011

Au programme cette semaine : Sarah Shahi vient présenter Facing Kate (Fairly Legal en VO), le dessinateur du comics The Walking Dead vient parler de la série, les photos des tournages des pilotes les plus attendus (Charlie's Angels, 17th Precinct...), la date du départ de Steve Carrel de The Office, Terra Nova repoussée, The Kennedys sur France 3...
27 juillet 2010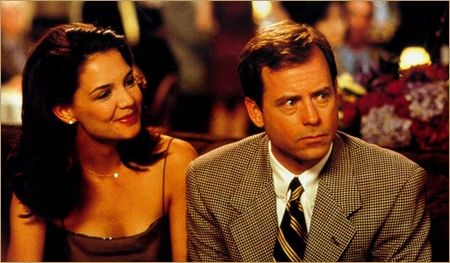 What About ?
L'histoire du clan Kennedy sur la période 1960-1968, de l'élection de JKF à l'assassinat de son frère Bobby.
Why ?
De manière générale, les grandes fresques historiques, ce n'est pas mon truc. J'aime quand le cinéma ou la télévision racontent des histoires inventées de toutes pièces. C'est pourquoi The Tudors ne m'a jamais attiré, pas plus que Rome. Je ne doute pas de leurs qualités, attention ! Ce n'est juste pas mon truc. On ne peut pas tout aimer. Eh bien malgré tout, The Kennedys m'intéresse vraiment. Sans doute d'abord parce qu'il s'agit d'une histoire pas si éloignée de nous, à quelques dizaine d'années près. Ensuite parce que c'est le grand retour de Katie Holmes sur le petit-écran (ses apparitions réussies dans Eli Stone mises à part) et je l'aime profondément vous savez. Et il faut avouer que la ressemblance avec Jackie Kennedy est flagrante. Je me souviens qu'on lui faisait déjà la remarque à l'époque de Dawson. Imaginait-elle alors qu'elle aurait la chance de l'incarner un jour ? Ensuite, sans dire que j'en suis fan, j'aime bien Greg Kinnear depuis Little Miss Sunshine. Il a les épaules pour interpréter Kennedy et là encore, la ressemblance est frappante. Leur duo a déjà été testé il y a quelques années dans le film (que j'aime bien mais qui est objectivement raté) : Intuitions, avec également Cate Blanchett. Le casting comprend aussi Tom Wilkinson, qui n'est pas un mauvais. Du coté de la production, on retrouve d'anciens membres de la team 24 : Joel Surnow à la production exécutive et Jon Cassar à la réalisation !
Why Not ?
Il s'agira de la toute première série de la chaîne History Channel, il est donc difficile de savoir ce dont elle est capable. La mini-série fera-t-elle l'objet de controverses ? Je ne pense pas. Je crains que l'ensemble soit un peu lisse, sans prise de risques. Au niveau des moyens, on ignore si la chaîne a mis ce qu'il fallait sur la table. D'un autre coté, c'est pas le genre de show qui a besoin d'effets-spéciaux coûteux pour être convaincant. Tout repose sur les acteurs, la réalisation et la mise en scène car l'histoire on la connaît. On ne devrait rien apprendre de nouveau. Il y a donc un risque que ce soit chiant et déjà vu. Oui mais Katie Holmes me ferait regarder n'importe quoi (et m'a fait regarder n'importe quoi d'ailleurs !).
Et vous, l'attendez-vous ?