16 octobre 2008

So I Think I Can Dance (Season premiere) // 11 7oo ooo tlsp.

---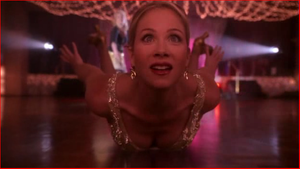 Parfois, j`aime bien me faire mes petits films. En regardant cet épisode, je m`en suis fait un. Se rapproche-t-il de la réalité ? Je n`en sais rien. Mais je vous en fait part quand même. J`ai l`impression que ce season premiere n`a pas été écrit par les scénaristes habituels de la série mais pas les dirigeants d`ABC. Pour dire les choses plus clairement, ça m`a tout l`air d`être une commande de la chaîne. On sait que la danse est très à la mode en ce moment à la télévision, avec évidemment Dancing With The Stars, justement diffusée avant Samantha Who?, et So You Think You Can Dance sur le FOX et dont le titre a été détourné pour nommer l`épisode. ABC a donc demandé un épisode spécial danse que les scénaristes ont écrit sans vraiment de conviction. C`est le sentiment que j`ai. Je ne retrouve pas la sitcom qui m`a tant fait marrer l`année dernière. Certaines scènes sont très poussives, notamment quand Sam danse mal. Ca n`était pas drôle. Peut-être est-ce la faute de Christina Applegate qui n`a pas su faire semblant de mal danser ? Cybill Shepherd en guest-star, pourquoi pas. Mais elle est très mal utilisée, on la voit à peine. Quant au mec justement de Dancing With The Stars, il est bien là pour corroborer mon hypothèse. En même temps, je ne suis pas en train de blâmer ABC. Ils ont eu raison. C`est peut-être ce qui a permis à l`épisode de faire un score tout à fait correct. On verra l`audience de celui de la semaine prochaine, sans cet artifice.
Là où cet épisode est un peu raté aussi, c`est que les personnages secondaires sont beaucoup moins drôles que d`habitude, même Regina que j`adore pourtant ! Andrea et Dena se donnent du mal pour nous faire décrocher un sourire mais rien n`y fait. Quand ça veut pas, ça veut pas. Todd est toujours aussi insipide. Il serait temps de lui acheter un sens de l`humour, non ?
---
// Bilan // Un season premiere ultra-décevant puisque très éloigné de ce dont la sitcom nous a habitué.