20 octobre 2012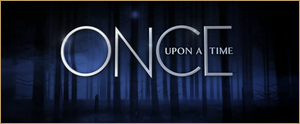 Lady Of The Lake // 9 450 000 tlsp.

---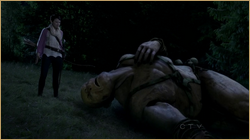 Après avoir délaissé Fairytale Land pendant quasiment tout un épisode, les scénaristes de Once Upon A Time rétablissent l'équilibre en s'aventurant avant tout dans le pays magique tant au présent qu'en flashbacks dans cette 3ème pièce de la saison, à nouveau très solide. C'est l'occasion pour Snow et sa petite bande de femmes baroudeuses d'affronter un ogre gigantesque pendant qu'Emma, plus cynique que jamais, essaye maladroitement de tisser un lien avec sa mère à coup de remarques acerbes (très drôles, mais gare à ne pas en abuser non plus !). On ne sait pas qui est la plus badass des deux, mais chacune leur tour, elles montrent qu'elles en ont dans le pantalon ! Once est une série féministe, elle le prouve ici encore un peu plus. A quand une princesse lesbienne, tiens ? Bon par contre, Aurora n'est pas très sympathique pour le moment, même si j'aime bien Sarah Bolger. Il va falloir que Snow et Mulan la matent une bonne fois pour toutes, qu'elle se calme.
Les relations parents/enfants sont plus que jamais au centre des intrigues puisque le King George fait son apparition à Storybrooke et que l'affrontement Cora/Regina s'annonce comme l'un des événements de la saison. On a aussi les retrouvailles entre Jefferson et sa fille, légèrement expédiées malheureusement. Les adieux de Charming à sa mère étaient très émouvants, mais le twist final était en revanche assez prévisible. On commence à bien connaître les tours de passe-passe scénaristiques des auteurs. Je me pose quand même une question : pourquoi Lancelot a-t-il décrété qu'il ne restait plus qu'un coquillage avec un peu d'eau magique ? En cherchant un peu plus, peut-être que... Mais ce n'est qu'un détail (comme le fait que l'épisode s'intitule Lady Of The Lake sans que l'on sache vraiment pourquoi étant donné qu'elle n'apparait pas) Il y a eu plusieurs facilités de ce type qui m'ont gâché le plaisir. Je pense aussi à Charming qui ne cherche pas à fouiller un peu le tombeau de Regina. Ou même à Regina qui ne vient pas prendre Henry la main dans le sac elle-même. C'est expliqué au détour d'une phrase par Charming, mais ce n'est pas convaincant du tout ! Je crois qu'ils ont voulu caser trop de choses dans cet épisode, la cohérence d'ensemble en a donc pâti.
---
// Bilan // Messieurs et mesdames les scénaristes de Once Upon A Time, c'est super de vouloir bourrer à fond les épisodes de ce début de saison 2 parce que du coup on ne s'ennuie pas une seule seconde et on a l'impression que vraiment beaucoup de choses se passent et que les intrigues avancent à pas de géants (d'ogres ?) à chaque fois mais ce serait pas un peu too much par hasard ?