25 novembre 2011

Au programme cette semaine : Xanadu, Les Invincibles et Fortunes annulées par Arte - Arrested Development et Les Enquêtes de Murdoch ressuscitées - HBO livre les premières images des coulisses de la saison 2 de Game Of Thrones - Les Experts recrutent une nouvelle régulière - On répond à vos questions : The Walking Dead, Mad Men avec Christina Hendricks en personne - La nouvelle BA de The River - Novembre, le mois d'Olivier Marchal avec Braquo 2, Flics 2 et Les Lyonnais - Oubliez Fringe, Anna Torv veut juste vous mettre un PV.
17 octobre 2011
Au programme cette semaine : Les "in" et les "out" de la rentrée : Playboy Club, Free Agents, 2 Broke Girls, Whitney, Up All Night... - Les Simpson sont immortels - La famille Bluth d'Arrested Development va enfin revenir ! - La famille Gallagher reprend du service - Des nouvelles du spin-off de Bones et de Game Of Thrones - La saison 2 de Braquo, c'est pour bientôt... - Rencontre au MIPCOM avec Fran Drescher, l'ancienne Nounou d'enfer, Kristen Johnston et Ashley Judd - L'auteur des romans Dexter nous tease sur le prochain opus... et la voix de votre serviteur !
15 avril 2011

Débat autour du thème : "Les séries feuilletonnantes sont-elles mortes ?", en présence d'experts séries parmi lesquels Alexandre Letren (Season 1, Manuel Raynaud (Spin-off.fr), Alexandre Hervaud (Ecrans.fr), Philippe Guedj (NoWatch.net), Olivier Joyard (Les Inrocks) et moi-même (AlloCiné). Ne regardez surtout pas l'émission pour mes interventions : elles sont très peu nombreuses (le public et la table ronde pas ronde ont eu raison de moi).
28 janvier 2011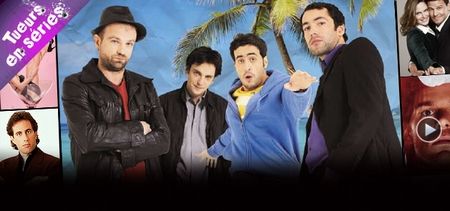 Au programme cette semaine : Des news de "Braquo", "Xanadu" et du spin-off de "Bones", les "Cosmocats" du 21ème siècle, le casting des "Invincibles" au micro, Jerry Seinfeld va prendre le contrôle sur le monde...
28 juillet 2010

La France est toujours à la traîne en matière de séries (et dans bien d'autres domaines d'ailleurs), mais cette année fut tout de même bien meilleure que les précédentes avec quelques productions de qualité. Elles méritaient donc bien une catégorie à elles ! Et si vous ne les avez pas vues, shame on you. Never Too Late !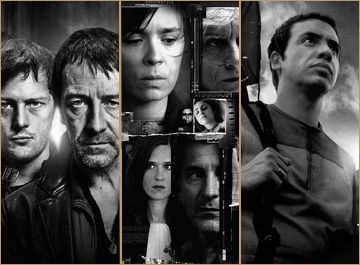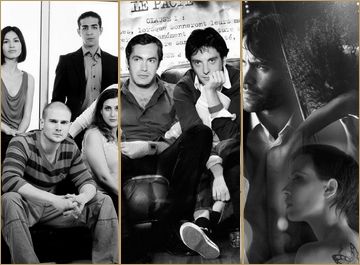 Dans la catégorie "Meilleure série francophone" de la saison 2009/2010, les nommées sont : Braquo (Canal +), Engrenages (Canal +), Kaamelott (M6), Les Bleus (M6), Les Invincibles (Arte) et Pigalle, La Nuit (Canal +).
Elles ne méritaient vraiment pas d'être nommées : euh... j'ai la flemme de faire la liste, vue sa longueur évidente !
Elles n'ont pas démérité : Un Village Français (France 3), Hero Corp (France 4), L'Internat (M6), Les Bougons (M6).
11 juin 2010
Au programme du jour : Michael Weatherly fait son show dans le zapping, Jean-Hugues Anglade parle de la saison 2 de Braquo, mais aussi Luke Pasqualino, Lucy Lawless, Peter Mensah, Jimmy Jean-Louis... et le tapis rouge de clôture avec toutes les stars du festival, une dernière fois !
Bientôt mes impressions sur le festival...
17 avril 2010
Au sommaire cette semaine : Twin Peaks a 20 ans, le feuilleton Nicollette Sheridan, Olivier Marchal en guest, la franchise Law & Order au top, Glee revisite Madonna...