21 mars 2013
Bring It On // 2 410 000 tlsp.

---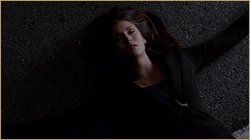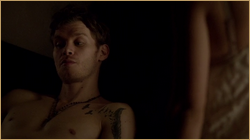 Alors, vous préférez Elena la pleureuse ou Elena la rebelle ? Non je demande parce que j'ai personnellement beaucoup de mal à me décider. Dans tous les cas : c'est une chieuse ! Et c'est ce qu'elle cherche à nous démontrer pendant tout cet épisode inexorablement lourd, dans lequel Nina Dobrev n'a pas d'autre choix que de cabotiner encore et encore. Je ne sais pas ce qui était le plus ridicule : ses sorties de douche moites et volupteuses ? Ses attitudes de cheerleadeuse pourrie gâtée qui s'amuse à faire tomber sa camarade (parce que LOL) ou à racketter une autre (pour un ruban !) ? Vraiment, ça m'ennuie beaucoup tout ça parce que, dans le fond, j'ai envie de la plaindre Elena, j'ai envie de ressentir un peu plus que de la pitié pour elle... Mais elle rend cela impossible dans ce contexte. Combien de temps va durer sa crise ? Impossible à dire. Qu'elle fasse n'importe quoi ne me dérange pas du tout, mais qu'elle le fasse intelligemment au moins ! C'est tout ce que je demande. Pendant ce temps, Caroline et Stefan hallucinent et encaissent. Le frère Salvatore est d'ailleurs tellement obnubilé par son ex qu'il met tout un épisode à faire le rapprochement entre les poches de sang volées à l'hôpital et Silas ! Nous, il nous a fallu quoi ? Une demi-seconde ? Quant à la vampirette blonde, elle a droit à une scène "émouvante" posée un peu n'importe où pour expliquer l'énième absence prolongée de Tyler, qui ne reviendra que quand... bah quand The Originals sera lancé et éloignera Klaus pour un long moment !
Le spin-off se met en place doucement et ça se voit de plus en plus. Bonjour les amis de la subtilité. Etant donné que Phoebe Tonkin a été inclus au casting régulier de la future série -essentiellement parce que la CW, Kevin Williamson et Julie Plec l'adorent, allez savoir pourquoi- il faut absolument rapprocher Klaus et Hailey. Ils n'y vont pas avec le dos de la cuillère en les faisant coucher ensemble dès à présent. C'est d'ailleurs assez rare que l'on trouve l'original dans cette position. Honnêtement, si le show doit ressembler à ça, je n'en veux pas. Les scénaristes ont fait de leur mieux pour donner de la matière à leur histoire, mais ça ne fonctionne pas pour moi. Pas pour le moment en tout cas. Ils m'ont plus ennuyé qu'autre chose. Cela dit, Damon et Rebekah, pour la première fois peut-être, ne m'ont pas amusé non plus. Leur intrigue -qui n'en était pas vraiment une- était plate.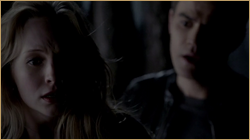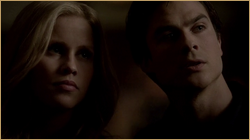 ---
// Bilan // Face à cet épisode, la question commence à sérieusement se poser : que reste-t-il à raconter dans Vampire Diaries avec ce groupe de personnage ? Et de la même manière, puisqu'il est imminent, le spin-off The Originals est-il vraiment nécessaire ? Sale temps à Mystic Falls...