16 avril 2012

Par UglyFrenchBoy
If You're Just An Evil Bitch Then Get Over It // It's Called Improvising, Bitch!

//
---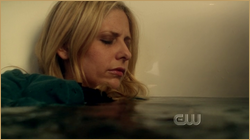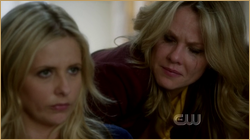 Avec peu de temps morts, ces deux épisodes proposent l'émergence de l'amorale Catherine. Le premier arrive à convaincre dans l'action, l'autre peut-être plus dans le suspense. Une chose est certaine : Andrea Roth assure dans sa partition. Vindicatif, son personnage sombre dans la folie pour notre plus grand plaisir. Paradoxalement, j'ai trouvé l'actrice plus convaincante avec son sourire machiavélique lors de ce plan où, assise, elle laisse Bridget quitter la pièce péniblement sous l'effet des médicaments, que lorsqu'elle tient en otage Andrew, Bridget et Juliet. La majeure partie de « It's Called Improvising, Bitch » aurait d'ailleurs pu gagner en tension avec ses scènes façon huis clos s'il n'y avait pas les cas de Siobhan et Henry au milieu. La résilience de celle-ci est certes intéressante, mais son évolution tombe un peu à plat et le pénultième épisode aurait très bien pu se passer de « la méchante jumelle » et son accouchement vite expédié. On se doute d'ailleurs qu'elle risque bien de tout perdre lors de la conclusion de la série.
On peut également reprocher la représentation de « l'homosexualité féminine » (si l'on peut dire). On a la fâcheuse impression que c'est parce qu'elle est bisexuelle (depuis peu ?) que Catherine a des pulsions meurtrières. L'ex-femme d'Andrew avait cependant engagé un homme pour tuer Siobhan avant de connaître Olivia, comme l'expliquent les flashbacks. On s'éloigne légèrement de Basic instinct et ses dérivés: la bisexualité a souvent été associée à la confusion, l'obsession, voire l'absence d'émotion. Plusieurs communautés ont reproché à Hollywood de confondre « biphobie » et « bisexualité ». La relation Catherine / Olivia pourrait elle aussi déranger par quelques aspects, mais vu qu'elle n'est traitée que le temps d'un épisode, on peut difficilement en tirer de telles conclusions. On a toutefois connu plus progressiste. Le bon côté de cette intrigue, au-delà de la surprise (j'avais évoqué cette possibilité sans y croire vraiment), c'est qu'elle permet d'avoir un plan de deux femmes qui s'embrassent. Rien de bien révolutionnaire me direz-vous ? À l'heure où une comédie grand public met en scène un couple gay, parents d'une petite fille adoptée, dont les marques d'affection sont souvent inexistantes et où un prime-time soap particulièrement en vogue procède à une coupe à la seconde même où deux lèvres de garçons sont sur le point de se toucher, voir deux femmes, dont l'une de plus de 40 ans, échanger un baiser en gros plan est un pas en avant.
L'autre victoire, c'est celle de proposer une dernière scène assez peu tape-à-l'œil. Tout au long de sa diffusion, Ringer aura eu le mérite de réussir ses cliffanghers. Cette fois, pas de fin abrupte pour annoncer la dernière, et probablement ultime, note. Le sort de Catherine Martin est visiblement scellé. L'enquête de Machado ne promet plus aucune révélation. Reste la confrontation très attendue des deux jumelles, même si rien n'indique qu'elle aura finalement lieu. Un peu plus subtile, la dernière réplique « Whose life is so pathetic that they have to live someone else's to be happy? » percute une Bridget qui pourrait ne plus accepter le « confort » de sa situation...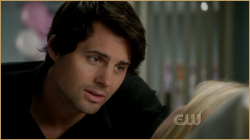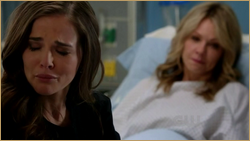 ---
// Bilan // L'heure des aveux a sonné pour l'héroïne de Ringer et sans doute aussi pour les téléspectateurs : c'est qu'elle risque bien de nous manquer cette série... Dernier épisode la semaine prochaine.