Au fil des 8 saisons de Desperate Housewives, de nombreuses concurrentes ont tenté de détrôner la série culte. Aucune n'a réussi mais certaines se sont bien battues pendant que d'autres se sont vautrées ! Tour d'horizon des successeurs potentiels, du passé comme du futur !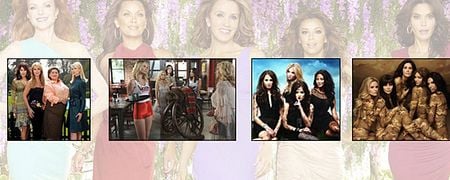 2004. La chaîne ABC, alors en difficultés depuis que la plupart de ses séries phares se sont achevées et qu'aucune de ses nouveautés ne rencontrent le succès escompté, choisit d'accorder sa confiance à un certain Marc Cherry, un nom parmi tant d'autres dans l'industrie télévisuelle. Il a travaillé quelques temps sur la sitcom populaire Les Craquantes avant de créer plusieurs comédies qui ont toutes été des échecs cuisants. Son dernier projet en date, Desperate Housewives, dont l'idée lui est venue en discutant avec sa propre mère, a été rejeté tour à tour par HBO, Showtime et l'ensemble des principaux networks (CBS, NBC et FOX). Pourtant, les prémices de cette histoire novatrice séduisent les dirigeants d'ABC qui en commandent un pilote, lequel devient quelques mois plus tard une série. Une campagne de promotion parfaitement orchestrée plus tard, le 3 Octobre, la série fait ses débuts à l'antenne et parvient à attirer plus de 21 millions d'américains. Le début d'un phénomène…
Vidéo promotionnelle de la 1ère saison.
2012. Après avoir connu beaucoup de hauts (des audiences énormes, un rayonnement incroyable à l'international, des récompenses) et quelques bas (des scandales, des critiques acerbes, des déceptions d'audience), Desperate Housewives s'apprête à tirer sa révérence au terme de sa 8ème saison, d'un commun accord entre Marc Cherry et ABC. La série a indéniablement marqué la télévision et figurera parmi les programmes les plus cultes des années 2000, au même titre qu'un Lost ou un Grey's Anatomy, d'ailleurs lancées elles aussi en 2004 et sur la même chaîne. Si la première a créé de nombreuses vocations, amenant une vague de séries très feuilletonnantes et conceptuelles qui ont rarement fonctionné sur la longueur (Heroes, The Nine : 52 heures en enfer,Invasion, Day Break, FlashForward, The Event...), Desperate Housewives a probablement boosté le genre de la dramédie, qui n'était pas majoritaire à l'époque, élargi le nombre de femmes héroïnes (ouvrant la voie aux plus déviantes "housewives" telles que Nancy Botwin de Weeds ou Tara Gregson de United States of Tara) mais n'a jamais vraiment été égalée dans le domaine. Il ne faut cependant pas oublier que, malgré son originalité sur la forme, la série était souvent comparée à ses débuts au soap de prime time Côte Ouest qui a fait les beaux jours de la télévision américaine pendant 14 ans !
Voici notre tour d'horizon des différentes tentatives de" copies" de la série et de ses potentiels successeurs, avec du Jardins Secrets, du Amas de Casa Desperadas, du Army Wives, du Pretty Little Liars, du GCB, du Devious Maids dedans....