09 septembre 2011
Au programme cette semaine : Entourage tire sa révèrence : hommage à Vince, Drama et les autres - Michael Shannon et Jason Bateman répondent à nos questions sur Boardwalk Empire et le film Arrested Development - Mike Tyson frappe fort sur HBO - Réunion The Shield dans Sons Of Anarchy - Les premières images de la nouvelle et dernière saison de Desperate Housewives - Les Walking Dead coupés en deux - Les Misfits partent à Vegas - Misha Collins (Supernatural) dans une websérie religieuse et sanglante...

Cats! Cats! Cats! // System Overhead
720 000 tlsp. // 800 000 tlsp.

//

---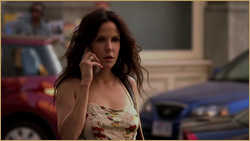 Weeds m'a passionné l'année dernière et au début de cette saison mais, à l'heure actuelle, Weeds m'ennuie. Les scénaristes semblent vraiment en panne d'inspiration et manquent surtout grandement d'humour ces temps-ci. Si les intrigues n'étaient pas bonnes mais que les blagues restaient drôles, cela ferait certainement l'affaire. C'est souvent arrivé par le passé. Mais ce n'est pas le cas. Il n'y a pas un personnage pour en rattraper un autre. Même Nancy, toujours en forme d'habitude, semble éteinte. Elle ne fait vraiment pas grand chose ou disons encore moins de choses que d'habitude, et pourtant la chance est encore avec elle ! Elle s'extirpe avec une facilité déconcertante de chaque situation. L'affaire Zola est donc rapidement réglée. La déception domine : ce personnage avait du potentiel et changeait un peu de ce dont on avait l'habitude mais, à part un duo rapide avec Andy assez efficace, elle n'a pas offert de grands moments. Le personnage incarné par Aidan Quinn a cependant fait bien pire en restant transparent et redondant de bout en bout. Sa disparation est un véritable soulagement, sauf que c'est Michelle Trachtenberg, que je ne porte pas particulièrement dans mon coeur, qui prend tout de suite le relais dans le rôle du boulet du moment. L'analogie qui est faite avec Nancy, en la présentant plus ou moins comme une vesion jeune d'elle, est intéressante mais ne porte pour le moment pas vraiment ses fruits. Disons qu'elle est censée représenter une grande menace pour le business des Botwin, mais elle parait pourtant bien inoffensive.
Tandis que l'intrigue de Shane connecte enfin avec celle des autres personnages, assez habilement d'aiilleurs, Silas ne parvient pas à retrouver son aura des premiers épisodes de la saison mais Andy, lui, se réveille enfin ! Ce n'est pas trop tôt ! Son délire avec le pistolet à clous et ses menaces à l'encontre d'Emma étaient plus ridicules qu'autre chose mais Weeds style, ça passe toujours mieux. La blague a peut-être un peu trop tirée en longueur. Sa rebellion s'est révélée finalement stérile mais elle a eu le mérite d'exister. Justin Kirk s'est débrouillé comme un chef ! Bon et puis Doug et son spin-off reste désespérement nul. Pire : je ne comprends strictement rien à ce qui se passe ! Soit c'est vraiment trop compliqué, soit mon attention n'a pas su être retenue et j'ai donc inconsciemment lâché l'affaire.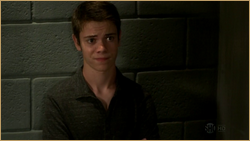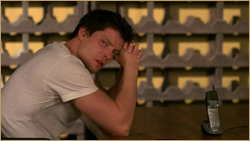 ---
// Bilan // La saison 7 de Weeds s'enfonce dans des méandres d'ennui et enchaîne les mauvais nouveaux personnages. Plus que trois épisodes pour changer la donne ! Tout est encore possible...