31 mars 2011

...youwillnotwin... (Season Premiere) // 41o ooo tlsp.

---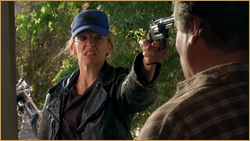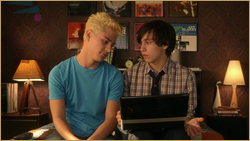 Je fais partie des plus fervents défenseurs de United States Of Tara, encore qu'il me semble qu'elle n'est pas loin de faire l'unanimité, ma tâche est donc facilitée, mais je dois bien reconnaître que ce Season Premiere échoue dans sa mission : celle de donner envie de voir la saison 3 dans son intégralité. Plusieurs mois ont passé depuis la fin de la saison précédente et rien n'a vraiment changé. Tout est calme, trop calme. Tara continue de se "transformer", Buck enchaîne ainsi les excès de vitesse et se sert même d'une arme pour menacer les gens, mais les autres alters ne semblent pas avoir fait de bêtises. Du coup, notre héroïne s'ennuie et décide de reprendre ses études, contre le gré de Max, qui envisage cette idée comme une nouvelle source d'ennui. Et franchement, on espère qu'il ne se trompe pas. A quoi bon sinon ? La perspective n'est pas très excitante pour le moment. Heureusement, Eddie Izzard débarque en guest grâce à cette intrigue. On peut s'attendre à de bonnes tranches de rigolade à l'occasion... Telle mère, telle fille : Kate s'ennuie aussi. Toujours sans emploi, ses nouvelles recherches sont infructueuses. Ses shows internet passés la rattrapent. Que va-t-elle devenir ? Les scénaristes n'ont pas trouvé la réponse jusqu'ici. Je compte sur eux... Telle mère, tel fils ? Pas vraiment. Marshall, mon chouchou, avance, lui. Tout du moins, il essaye. Il file toujours le parfait amour avec Lionel. A un détail près : Lionel ne veut pas entendre parler... d'amour. Problématique. Je suis déjà plus enthousiasmé par cette première piste. Mais elle ne nous occupera pas toute la saison...
Telle mère, telle soeur : c'est Charmaine qui vole finalement la vedette à sa soeur et même au reste de la famille. Elle vit plutôt bien sa grossesse et sa nouvelle vie de célibataire. Mais on sent au fond qu'elle n'est pas totalement heureuse. Elle ne parvient pas à laisser plus de place à Neil, qui aimerait au moins accomplir son rôle de futur père. Il finit par s'imposer en douceur. Et c'est mignon. Ce couple est tellement improbable. Lorsque Charmaine sera prête à retirer son diadème, ses rêves de princesse s'envoleront peut-être enfin et elle pourra s'assumer en tant que femme. Elle est encore une femme-enfant.
---
// Bilan // La saison 3 de United States Of Tara ne démarre pas sous les meilleurs auspices. Les scénaristes ne semblent pas savoir quoi raconter et ne donnent pas vraiment d'indices sur ce qui nous attend. Au moins, la surprise sera totale ! Pourvu qu'elle soit bonne.