06 octobre 2010

Shock To The System // 12 53o ooo tlsp.
---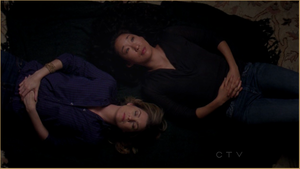 Je ne sais pas si vous avez remarqué la même chose que moi mais tous les épisodes de Grey's Anatomy dans lesquels il pleut sur Seattle sont géniaux ! C'est une constante... depuis 7 ans. Et ça force toujours autant le respect. Si Shonda Rhimes ne vivait pas si loin là-bas, je la demanderais en mariage sur un post-it. Et tant pis si elle est vilaine ! Tant de talent fait tout oublier. Et puis elle n'est pas si vilaine... enfin bref. J'en ai un peu marre de faire des critiques de cette série. C'est trop parfait, trop d'émotion, c'est trop bon. Je suis même incapable de chipoter sur un détail. Même les cas médicaux, qui m'emballent pourtant moins ces derniers temps, m'ont convaincu ici. Certains personnages sont fouillés à l'extrême et c'est remarquable de trouver encore des choses à dire sur eux après tant d'années sans faire de redites. D'autres sont plus discrets mais réussissent toujours à tirer leur épingle du jeu grâce à une bonne réplique bien cinglante ou une petite intrigue amusante qui divertit avec succès. Et puis la roue tourne et chacun a son moment de grande gloire.
Cristina est certainement LE personnage qui traverse les années sans failles. Je ne me souviens pas qu'elle ait eu une seule mauvaise intrigue depuis le début de la série (hors cas médicaux). Elle a encore réussi dans cet épisode à être infiniment touchante et Sandra Oh y est pour beaucoup. On lui met de l'argent entre les mains et elle en fait de l'or. Son amitié avec Meredith est une des plus belles de la télévision et une des plus palpables aussi. On la sent vivante et réelle. Je suis désolé d'être aussi enthousiaste mais que voulez-vous... L'intro et la conclusion de Meredith étaient géniales, très drôles. Et elle a dit quelque chose qui aurait presque pu passer inaperçu : le nouveau psy est peut-être sympathique et hot, mais est-il compétent ? Je me le demande. Parce que Lexi n'est clairement pas prête, quoiqu'il en dise. C'est d'ailleurs assez plaisant de la voir repousser McSteamy. Il a trop facilement tout ce qu'il veut d'habitude. Du coté du couple "le nouveau" et Teddy, j'avoue être déjà conquis en seulement deux petites scènes. Je trouve que le feeling passe bien et j'ai tellement envie qu'il reste en plus... Je ne parlerai pas du reste parce que ce serait trop fastidieux mais chaque détail de cet épisode était soigné et remarquable, même l'intrigue d'Alex mais c'est vraiment grâce à Bailey ! Une scène = une émotion. Y'a pas de meilleure recette.
---
// Bilan // J'espère que Marc Cherry ne regarde pas Grey's Anatomy. Si c'est le cas, il doit mourir de honte chaque semaine de chaque année...