10 août 2010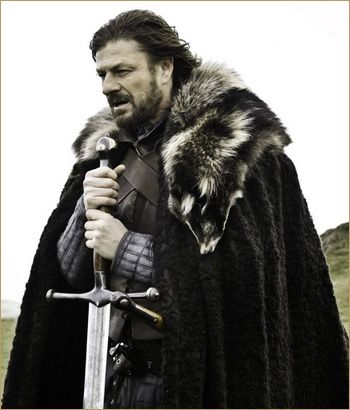 What About ?
Il y a très longtemps, à une époque oubliée, une force a détruit l'équilibre des saisons. Dans un pays où l'été peut durer plusieurs années et l'hiver toute une vie, des forces sinistres et surnaturelles se pressent aux portes du Royaume de Winterfell, appartenant aux Starks, une famille controversée que de nombreux ennemis veulent détrôner. Soldats et sorciers, manants et assassins unissent leurs forces dans une bataille aux rebondissements et aux trahisons multiples...
Why ?
Heroïc-fantasy. Voilà un genre qui ne me plaît pas du tout. Aux dirigeants de HBO non plus, de leur propre aveu tout récemment. Il faut dire qu'en la matière, la dernière née n'est autre que Legend Of The Seeker, une série super cheap annulée au bout de deux saisons. Un supplice pour qui aime vraiment la télévision. Elle était même pire que ses aînées Hercule et Xéna, loin d'être des chef d'oeuvres elles aussi. On pourrait également classer dans cette catégorie l'horrible Spartacus : Cul et Sang et son futur spin-off, les godes dans l'arêne. En clair, Game Of Thrones part avec un gros handicap, heureusement rattrapé par tout le reste.
La série s'appuie d'abord sur un roman qui a passionné les foules : Le Trône de Fer. Je ne l'ai pas lu et ne compte pas le faire pour garder la découverte totale. Peut-être une fois que la série sera finie, si j'ai été convaincu. En tous cas, tous ceux qui l'ont lu sont très enthousiastes et attendent ce projet avec une grande impatience. Ce soulèvement populaire, moi, ça me motive. Et puis HBO bien-sûr. De la part de cette chaîne, on sait non seulement que les moyens seront là mais en plus qu'il y aura du fond. Le spectacle promet d'être beau, impressionnant et subtile. En plus, il n'y actuellement rien de semblable à la télévision. Il n'y a jamais eu d'ailleurs. Un mot sur le casting, pas aussi impressionnant que les autres concoctés par la chaîne mais avec, tout de même : Sean Bean, Lena Headey, Nicolaj Coster-Waldau, Alfie Allen, Peter Dinklage... Là où je me méfie, c'est que j'ai réussi à m'ennuyer devant Le Seigneur des Anneaux (les trois), et pas qu'un peu. Alors aussi bonne pourra être la série, il n'est pas dit que j'apprécie... Rendez-vous au Printemps 2011 !
Et vous, attirés ? Impatients ?
// Bonus // Très court mais prometteur teaser :