03 octobre 2009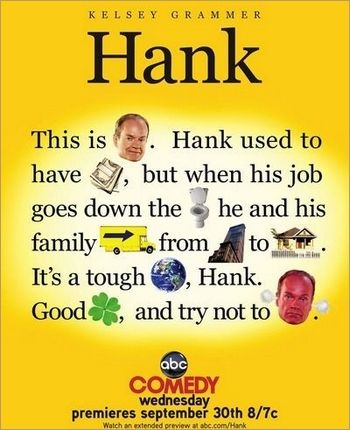 Pilot // 8 34o ooo tlsp.

What About ?
Après avoir perdu sa place, un puissant business man de Wall Street décide de déménager avec sa famille dans une petite ville de Virginie. Le problème ? Il n'a pas l'habitude de passer du temps à eux...
Who's Who ?
La sitcom repose entièrement sur les épaules de Kelsey Grammer, un acteur que l'on connaît mal en France puisque Frasier n'a pas vraiment passé nos frontières alors qu'elle est culte de chez culte aux Etats-Unis et qu'elle a duré 11 ans (elle s'est achevée en 2004). Plus fort encore : le personnage de Frasier est né en 1984 dans une autre sitcom cultissime : Cheers, l'ancêtre de Friends. En gros, il a interprété ce rôle pendant... 20 ans ! Depuis, il ne réussit donc pas à faire autre chose que du Frasier. Sa femme dans Hank est jouée par Melinda McGraw, vue dans Mad Men et connue pour son rôle de Melissa Scully dans X-Files ! Autant dire que cette sitcom la change... Dans le rôle du beau-frère bien lourd : David Koechner, un ex du Saturday Night Live.
So What ?
Hank sera sans doute la plus mauvaise sitcom de la saison, à ranger aux cotés de 'Til Death, Brothers et Rules Of Engagement. Elle pue la ringardise, c'est affligeant. Faire ça encore de nos jours, c'est aberrant. Et je ne comprends pas pourquoi ABC l'a choisie pour faire partie de sa grille alors que ses autres sitcoms de la saison (Modern Family, The Middle, Cougar Town...) sont bien plus modernes. Là, elle fait vraiment tâche. A coté, Ma famille d'abord et compagnie étaient des chef d'oeuvres ! Mais j'ai ma petite théorie : l'acteur a fait plusieurs crises cardiaques en début d'année, alors que le projet en était à ses balbutiements, et ABC a peut-être voulu ne pas lui porter le coup de grâce en ne la retenant pas. Ca vaut ce que ça vaut hein.
Quand c'est à ce point mauvais, ça devient presque difficile de l'expliquer tant il faut le voir pour le croire. Personnellement, je hais Kelsey Grammer. C'est physique. On dirait un vieux réac'. Déjà dans Back To You l'année dernière, il ne valait pas grand chose. Comme on ne voit que lui à chaque scène et et qu'il en fait des tonnes pour faire rire mais avec des tirades qui ne font rire que lui, c'est rapidement insupportable. Et puis on insiste beaucoup sur le fait qu'il a toujours passé très peu de temps avec sa famille quand il travaillait mais au point de ne pas connaître ses enfants, ça devient invraisemblable et ridicule. Sa femme lui tient tête un minimum, heureusement, mais ça ne suffit pas à sauver l'ensemble du naufrage. Je ne parlerai même pas des décors en carton-pâte. On sent que c'est la crise : ABC est allé chercher les vieux décors de Premiers Baisers chez AB Productions.
En bref, tout, absolument tout, est à jeter dans cette sicom nullissime !