23 avril 2009
Bad Dreams // 1o 45o ooo tlsp.

---
Le début de cet épisode, un peu longuet et pas aussi efficace que d'habitude, laissait présager d'un épisode moyen, farfelu voire tiré par les cheveux. Eh bien pas du tout. Oh, farfelu, oui, ça l'était. C'est Fringe quoi ! Mais ce n'était pas ennuyeux du tout, c'était même passionnant malgré un rythme moins soutenu que d'habitude et finalement assez peu d'action. Olivia souffre de mauvais rêves, mais vraiment très mauvais puisqu'elle y tue des gens... pour de vrai ! Rêve prémonitoire ? Non, pas du tout. Olivia était possédée par son alter-ego, si l'on peut dire. Celui avec qui elle a partagé quelques moments difficiles de son enfance lorsqu'elle était l'objet d'expérimentations étranges. Et même si l'on s'en doutait un peu, nous en avons eu confirmation : ceux qui étaient derrière ces tests sur des enfants portent les noms de William Bell et Walter Bishop ! Tout s'explique.
On reparle du fameux manifeste écrit par Walter sur les soldats d'une armée et des mondes parallèles. Où est-ce que tout cela va nous mener ? Je me le demande. Il faut s'attendre à ce que Nina Sharp soit étroitement liée à ces expériences et à découvrir que Broyles est dans la confidence depuis le début. Concernant William Bell, il semble qu'il ait rendu une petit visite à l'ami d'Olivia, Nick. "I think they meant for us to forget. I did what they told us. I waited to be called up, stayed fit, stayed focused, stayed ready, the call never came. It never came. That man with the glasses showed up at the hospital. He spoke all the old words. He said, they're coming, what was written will come to pass. He said he knew how to wake me up. I want to stop hurting people." Nul n'ignore que Leonard Nimoy (Mr Spock de Star Trek) a été casté pour interpréter prochainement William Bell. J'ai hâte de faire sa connaissance, pas vous ?
Tandis que Peter est toujours en retrait, c'est le cas depuis plusieurs épisodes, Olivia confirme son statut d'héroïne à la Sidney Bristow. Les points communs entre les deux personnages sont de plus en plus nombreux, et encore je dis ça en n'ayant pas vu grand chose d'Alias (je vais me rattraper cet été, c'est promis). L'humour était un peu moins présent dans cet épisode que dans les deux précédents, le trouillomètre et le dégoût n'étaient pas vraiment de sortie mais la fascination, en revanche, était plus que jamais au rendez-vous ! Par contre, j'essaye d'oublier cette scène presque ratée sur le toit de l'immeuble où l'on avait l'impression d'assister à un terrible remake de cette bouse infame qu'est le film Phénomène(s). Sinon, les pervers ont été servis avec une vraie-fausse scène saphique entre Olivia et une strip-teaseuse qui s'embrassent goulûment.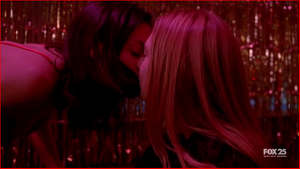 ---
// Bilan // Voilà un épisode mythologique fascinant, à défaut d'être véritablement surprenant. J'ai vraiment le sentiment de regarder une série ambitieuse, tant visuellement que scénaristiquement, qui se révèle un peu plus à chaque épisode et qui intrigue. Je comprends que certaines personnes passent à coté : elle demande de l'implication, de l'attention... un peu comme Lost quoi.