The Courtship of Betty's Father // 7 4oo ooo tlsp.
---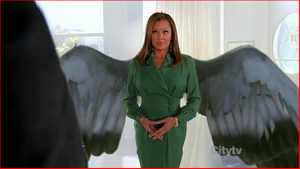 L'épisode avait bien commencé mais il s'enlise petit à petit dans la guimauve habituelle de cette 3ème saison d'Ugly Betty. Commencons par les soeurs Suarez que l'on fait passer une fois de plus pour des saintes nitouches complêtement idiotes. Encore, venant de Betty ça ne m'étonne pas vraiment. D'Hilda un peu plus. Elles voient en vidéo leur père en train de peloter le cul de son infirmière. N'importe qui aurait compris qu'ils flirtaient ! Les soeurs Suarez, elles, pensent juste que la crise cardiaque de leur père a réveillé son coté bestial et qu'il "harcéle" -le mot est fort- Elena. Dès lors, c'est assez inintéressant de les voir se tromper sur toute la ligne. Elena et Ignacio forment un couple et lorsque Betty les surprend, ils n'ont plus d'autre choix que de le révéler. Et là, Betty et Hilda réagissent comme prévu : comme des connes ! Elles ne peuvent pas admettre que leur père sorte avec une autre femme que leur mère -morte il y a des années- et en font tout un pataqués. Heureusement, tout est bien qui finit bien, autour d'une bonne tablée, avec sourires et joie. Beurk. C'est presque aussi indigeste que toute la bouffe que prépare Ignacio à longeur de temps.
Ce que j'ai apprécié dans cet épisode, c'est de revoir un peu plus Claire Meade. C'est un personnage que j'adore et Judith Light est juste parfaite dans ce rôle. Elle fête ses soixante ans et se sent super seule, d'autant que Daniel est bien plus préoccupé par sa chère et tendre que par sa mère. La voir voler dans les magasins et demander ensuite l'aide de Betty était vraiment amusant. Voir Betty rencontrer ses "amies" était également très fun. Les choses prennent une tonalité plus touchante sur la fin, lorsque Claire avoue sa solitude. Les quelques paroles échangées avec Daniel et Betty étaient plutôt émouvantes et pas trop gnan gnan. En revanche, tout le reste est toujours aussi creux. Wilhelmina qui ne veut pas prononcer le "Je t'aime" mais qui se voit obliger de le faire à cause d'un stupide perroquet, ça n'a pas d"intérêt, ça manque cruellement de mordant. Mark est à peine inclus dans l'histoire et Amanda ne fait qu'une brève apparition. Au fait, où est passée Christina ? Les problèmes de Daniel vis à vis de l'ombre de Connor qui le suit partout quand il est avec Molly étaient inintéressants au possible.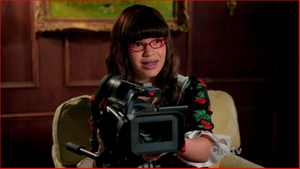 ---
// Bilan // Même en ce jour de St Valentin, trop de guimauve tue la guimauve ... Préfère encore m'enfiler un paquet entier de marshmallows je crois ! Paraîr que ABC ne compte finalement pas arrêter la série. Mon oeil !