27 décembre 2008

The Legend of Merle McQuoddy // 4 86o ooo tlsp.

---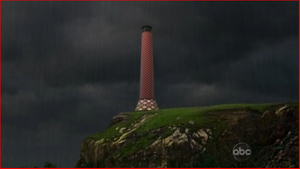 Ce que les épisodes de Pushing Daisies peuvent être inégaux, c'est fou ! Après un vrai bon épisode, en voici un beaucoup moins bon qui ne vaut que pour les excentricités de la série et le brio des acteurs. Ce qui est déjà pas mal, peu de séries peuvent prétendre faire aussi bien à ce niveau-là. Mais quand même, c'est rageant ! On a une bonne histoire depuis le début mais on a l'impression que les scénaristes ne savent pas trop quoi en faire. Ils ne savent pas où aller. Alors ils bifurquent et ils comblent. L'intrigue avec Charles Charles aurait pu être bonne et faire avancer les choses mais il n'en est rien ! Il se dispute avec Ned et Chuck, pas touchante du tout, nous joue la fille à son papa chéri. C'est un peu comme l'histoire avec Dwight. Elle était prometteuse et puis plus rien. Le fait que Charles se soit enfuit va-t-il changer quelque chose ? J'en doute. Soit ils vont le rattraper en deux secondes, soit ils vont passer tout l'épisode à le chercher. Dans les deux cas, on sait bien que Chuck va devoir prendre la décision tôt ou tard de "re-tuer" son père. Mieux vaut tôt ! Les tantes étaient sur le point de découvrir que Chuck était toujours vivante et puis finalement non. Dommage.
L'intrigue policière du jour prenait beaucoup de place. En même temps, vu la pauvreté de l'intrigue d'à-coté, ça valait mieux ! Après un excellent duo Ned/Olive, on a eu droit à du grand Emerson/Olive. Les réflexions d'Olive toujours à coté de la plaque et ses délires sont toujours aussi drôles et frais. Ca rassure de se dire que dans quelques temps, si tout va bien, Kristin Chenoweth sera l'une des héroïnes du nouveau drama de David E.Kelley : Legally Mad. On n'en a pas fini avec la belle. J'ai une grande passion pour les phares, les "lighthouse" comme les anglo-saxons disent. Je vais même vous avouer que mon grand fantasme serait de faire l'amour dans l'un d'eux. Je trouve ça tellement romantique ... Je mourrai dans un phare. Voilà, c'est dit. L'intérêt de cette intrigue limitée dont on devinait les tenants et aboutissants très très vite, venait surtout des guests. Mary Kay Place a divinement interprété le rôle d' Annabelle Vandersloop (toujours ces noms improbables). J'ai d'ailleurs hâte de la retrouver en mormone dans la 3ème saison de Big Love. Et puis il y avait également Alexander Gould, plus connu sous le nom de Shane Botwin dans Weeds.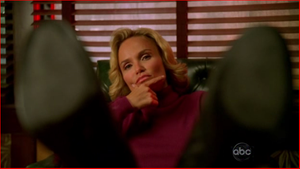 ---
// Bilan // Pas l'épisode le plus marquant de la série, loin s'en faut. Il montre assez bien que les scénaristes ne savent pas où ils vont depuis le début. D'où ces épisodes très inégaux en qualité.