Chapter Fifteen : The Sisterhood of The Traveling Prada // 3 6oo ooo tlsp.

---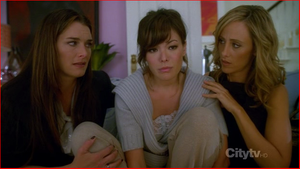 Je dois bien reconnaître à la série une qualité : avoir su rendre au fil du temps le trio amical de la série réussi. Au début, tout semblait forcé, surjoué, vraiment pas naturel. Maintenant, quand les filles sont toutes les trois ensemble, il y a quelquechose de vraiment sympathique qui se dégage. Les scènes où elles s'engueulent sont plus réussies que celles où elles s'amusent mais peu importe. Cette complicité est contagieuse. C'est en partie ce qui a fait le succès de Sex & The City d'ailleurs. Même si les actrices ne s'entendaient pas trop dans la vie d'ailleurs ! Enfin au moins Sarah Jessica Parker et Kim Catrall. Les engueulades entre Miranda et Carrie avaient plus de gueule que celles de Nico et Wendy mais bon, on va pas recommencer à comparer les deux séries. C'est pas du jeu !
Cet épisode avait le grand mérite de sortir les héroïnes de leur New York un peu étouffant pour l'air frais de la campagne. Et j'ai eu l'impression que ce petit endroit du New Jersey ressemblait un peu à mon Capeside de Dawson adoré. Ca m'a fait chaud au coeur. La petite ballade romantico-érotique de Nico et Kirby était délicieuse. C'est fou le temps qu'ils passent à se grimper dessus ces deux-là. Les prises de tête de Wendy étaient un peu moins saoulantes que d'habitude et la gentille déprime de Vic était, comme d'habitude, exagérée, over the top, mais la conclusion m'a bien plu : Joe a prouvé une fois de plus qu'il était une grosse merde. Ce serait bien que Vic s'en rende compte et passe enfin à autre chose. J'aurai dû mal à supporter encore des épisodes et des épisodes centrés sur leur couple maudit. La grosse ombre au tableau qui me tracasse, c'est ce gros nuage autour de Nico et de son boss. On a bien compris que leur relation allait déraper et ça me déplaît fortement, même si ça fait bouger les choses. Elle serait folle de faire du mal à Kirby ! Il est si adorable ...
---
// Bilan // Troquer New York contre le New Jersey, parler d'amitié et vous obtenez un épisode attachant qui aurait sans doute mérité encore mieux. Mais ça reste Lipstick Jungle ...