11 décembre 2008
Just Business // 5 4oo ooo tlsp.

---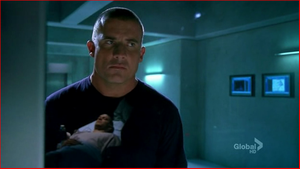 Insupportable cet épisode ! In-sup-por-table. Je n'ai jamais été aussi proche de laisser tomber la série. Je ne peux plus. Je ne supporte plus la gueule des personnages. Je ne supporte plus la musique de la série. Je ne supporte plus les retournements de situation à répétition. Je ne supporte plus les saignements de nez de Michael, les délires de T.Bag, les larmes de Sara, les gros bras de Lincoln. Je ne supporte plus non plus Mahone qui n'a strictement plus rien à faire là. Je ne supporte plus Don Self. Je ne supporte plus Michael Rapaport qui est un des pires acteurs de l'histoire. Il n'est pas crédible en gentil, il n'est pas crédible en méchant. Je ne supporte plus d'entendre le mot "Scylla". Mais parce que j'ai une patience infinie, j'irai jusqu'au bout de cette ultime saison (imaginez le cauchemard s'il prend à la Fox de la renouveller !!!).
---
// Bilan // Cf les 8 lignes précédentes.

The Fight // 1o 49o ooo tlsp.

---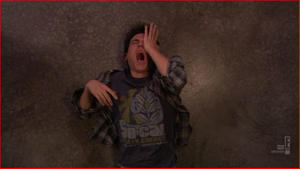 Oula, je ne pensais pas que l'on aurait un presque-aussi mauvais épisode que le mémorable Best Burger In New York cette saison ! Eh bien si. On en est vraiment pas loin avec The Fight. Outre le fait que l'histoire tienne sur un mouchoir de poche -ce qui, pour une sitcom, n'est pas forcément un problème-, il n'y avait tout simplement pas grand chose de drôle à en retirer. Doug, le barman du McLaren's, c'est autre chose que ce bon vieux Günter de Friends moi j'dis ! C'est une brute épaisse très loyale qui tient à ce que le Scooby Bang ait toujours sa place fétiche dans le bar, même s'il faut en venir aux mains. Si seulement on nous avait sorti une explication de ce genre dans Friends, on aurait compris pourquoi Phoebe, Chandler et les autres trouvaient toujours le moyen d'avoir leur canap' et fauteuils préférés au Central Perk ! Tout ça pour dire que, hormis Robin et Barney, aucun personnage n'a réussi à tirer son éplingle du jeu. Pas même Marshall qui avait pourtant fort à faire dans cet épisode. Bon ok, je reconnais que le voir couper la dinde de Thanksgiving avec un sabre laser m'a arraché un sourire mais sinon, je crains être totalement hermétique à son humour. On remarquera le clin d'oeil à un épisode passé -et c'est toujours agréable- lorsque Marshall dévore un énorme sandwich. Dans le langage codé de Ted, cela veut dire qu'il fumait un gros pétard. Les enfants que doivent affronter Marshall puis Ted m'ont bien fait rire. Je crois avoir réportorié à peu près tout ce qui était digne d'intérêt dans cet épisode très très moyen. Terminons par la citation du jour, made in Robin : "If you're missin' your teeth, I'm missin' my pants!".
---
// Bilan // Bof. Hormis quelques rares passages, cet épisode est tout sauf mémorable. Ca change des deux précedents qui m'avaient fait beaucoup rire.