29 novembre 2008

The Equation // 9 18o ooo tlsp.

---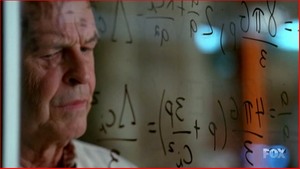 Le plus énervant dans Fringe finalement, c'est qu'à chaque épisode un nouvel élément mythologique semble faire son apparition mais on n'en reparle plus les épisodes suivants. Par exemple, cela fait plusieurs épisodes que Massive Dynamics n'a plus été évoqué. L'agent Scott ne fait également plus parti des préoccupations actuelles. On n'a pas encore reparlé du beau-père d'Olivia qui veut la tuer. Pour le coup, je comprends que l'on prenne son temps pour y revenir au moment opportun. Chaque nouvelle enquête se termine sur un questionnement, sur des éléments un peu floues. Dans The Equation, justement, on ne sait pas à quoi correspond cette fameuse équation et en quoi la résoudre semble être si important pour la jeune femme. On ne comprend pas bien non plus ce que fabrique le mec à la fin de l'épisode avec sa pomme. Il est question de voyages spatio-temporelles, c'est évident. Mais on n'en sait pas plus. Ceux qu'expérimentent Olivia et certains protagonistes restent totalement inexpliqués. J'espère que le moment venu, on reviendra un à un sur ces éléments et que l'ensemble fera sens.
Il y avait beaucoup d'émotion dans cet épisode. L'émotion du père qui cherche son fils, bien-sûr. Une émotion classique un peu facile, dont il suffit de tirer certaines ficelles pour faire pleurer dans les chaumières. Et puis l'émotion beaucoup plus subtile de Walter. Une fois de plus, la prestation de John Noble est absolument remarquable. La scène de retour dans l'asile psychiatrique était particulièrement forte. Puis à coté de ça, on sent que Peter a de plus en plus d'empathie envers son père. Il a compris qu'il avait vécu des moments atroces dans cet asile et il compte bien se battre afin qu'il n'y retourne plus. Vous avez remarqué que le directeur de l'asile, interprété par William Sadler (Roswell, Wonderfalls), possédait un physique très proche de celui de l'agent Scott et de pas mal d'autres personnages "méchants" de la série ? A chaque fois, ils ont des yeux bleus perçants et une chevelure tirant sur le chataîn clair ... Je suis sûr que ce n'est pas une coincidence !
---
// Bilan // Un épisode brillant, à la fois palpitant et émouvant. Fringe réussit toujours à nous emporter dans son univers malgré sa complexité.