23 septembre 2008

Safe and Sound // 5 9oo ooo tlsp.

---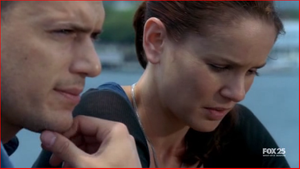 Je ne me sens pas très bien depuis quelques heures. J`ai la nausée (si j`étais une femme, je m`inquiéterais sérieusement) et j`ai envie de dormir. J`ai quand même fait l`effort de regarder Prison Break et vous écrire cette review parce que vous le valez bien, chers lecteurs ! Cependant, ce sera rapide. A quoi bon se répéter d`épisode en épisode ? Chaque épisode de cette saison est structuré plus ou moins de la même façon jusqu`ici et c`était la dernère chose à faire avec une série déjà mal en point à la base. Le coup de l`aspirateur de cartes, ça commence à bien faire. Je pensais que la manière de récupérer les données serait différente à chaque fois, histoire de ne pas tomber dans la routine, mais non, c`est systématiquement la même chose. Déjà que c`est bien peu crédible mais nous refaire le même coup trois fois d`affilée, franchement ... Comme toujours, il y a toujours une certaine excitation à voir Michael, Lincoln et leur bande s`organiser pour récupérer ces fameuses données. Le coup du trou dans le mur est totalement capilotracté et improbable mais il fait légérèrement penser au fameux trou de la saison 1 et ce doux souvenir réchauffe le coeur. Une autre époque ... Bon, quand même, les petites mains que sont Sucre et Bellick deviennent de plus en plus ridicules ! Les voilà en train de décaper la moquette ! C`est un jeu que se sont lancés les scénaristes, je suis sûr. C`est à celui qui trouvera comment les rendre le plus ridicule qui gagnera !
En parallèle (et c`est pas une mauvaise idée de spliter l`équipe en deux groupes), Mahone part à la recherche de celui qui a tué son fils, Wyatt. La rencontre entre Pam et Mahone est chargée d`émotion et on peut encore une fois remercier William Fichtner d`être un bon acteur. C`est bien le seul qui réussit à faire passer un peu d`émotion dans cette série ! Bon, concernant son investigation, elle n`avance pas bien vite mais c`est normal. La confrontation ne peut pas déjà avoir lieu ! A quoi servirait-t-il après ? Sara fait un tout petit peu avancer le schmilblik aussi. Ca la change. Et puis Michael coule toujours du nez ... J`aime beaucoup son excuse auprès de Lincoln "I have to acclimatating to the warmer climate". Tu viens de passer une saison au Panama où il fait encore plus chaud qu`à Los Angeles !!! Ridicule. Mais c`était peut-être le but, je ne sais pas. On sait Michael un peu plus intelligent que ça quand même. Sortir une telle ânerie ne lui ressemble pas. Toujours est-il que visiblement, il lui est arrivé un pépin de santé quand il avait 13 ans. Une leucémie ? Voilà qui attise la curiosité ... T-Bag ? Connaît pas. Il devient l`ombre de son ombre, c`est sans intérêt.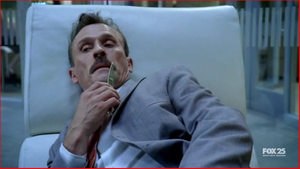 ---
// Bilan // On applique la même recette que pour les deux épisodes précédents, le résultat est donc sans appel : c`est toujours mauvais. Heureusement, l`efficacité de la série n`a pas totalement disparu. Elle ressurgit de temps en temps. On essaye de s`en contenter.