27 août 2008

Head Cheese /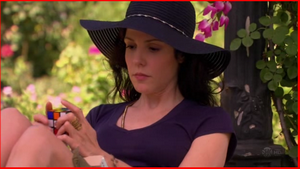 Deuxième épisode consécutif où l`humour fait cruellement défaut. Dans le précédent, il avait laissé sa place à l`ennui. Dans celui-ci, il laisse sa place à l`émotion et à choisir, je préfère cela. Emotion d`abord de Nancy. Elle réalise (enfin !) qu`à travers ce fameux tunnel ne passe pas que de la drogue. Des armes aussi. Et des femmes, des jeunes femmes, voire des très jeunes femmes, des filles. Elle descend de son petit nuage et comprend que cet homme qu`elle aime cautionne cela, l`encourage et va même jusqu`à s`inventer de nobles excuses. Il fait cela pour acheter de nouveaux appareils aux hôpitaux, dit-il. Si seulement il n`y avait que cela. Et quand bien même ! Faire du bien en passant d`abord par le mal, c`est tout sauf noble. Nancy a compris tout ça. Elle décide alors de dénoncer Guillermo. Je crois qu`elle se trompe de cible. Même si Guillermo est une véritable crapule, que dire alors de son employeur, Esteban ? L`amour rend aveugle mais Nancy n`a pas encore totalement perdu la vue !
Emotion de Celia aussi. Elle a étonnamment accepté de se prendre en main (sa mère doit donc lui faire très peur ...) et pendant son court séjour en cure de désintoxication, elle ne craque pas ! Bien au contraire : elle aide même ce pauvre Bob, nouveau compagnon de route et possible future love interest. Même si ce revirement de situation peut paraître un peu gros et rapide, il a le mérite de faire bouger un peu les choses et de montrer Celia sous un autre jour, très touchant. Cette femme a de toute façon beau faire les pires crasses, elle garde toujours cette côte de sympathie inexplicable. On a pas encore retrouvé la Celia drôle qui peut faire mourir de rire mais c`est en bonne voie.
Vous parlez des autres storylines m`est plus difficile puisque pas grand chose ne m`a interessé. Doug, El Andy et la jeune mexicaine forment un trio bancal, pas vraiment drôle, pas triste non plus. Un trio qui laisse quasiment de marbre, à l`exception d`une ou deux répliques bien senties. Nous avons eu la réponse au grand suspense de la semaine : Shane a bien fait l`amour avec les deux pouffes-punk. On ne sait pas vraiment comment ça s`est passé mais visiblement bien puisqu`elles s`accrochent à lui, à son grand dam. Par ailleurs, je suis rassuré : Shane ne laisse pas tomber Isabel pour autant ! Cette storyline est bonne mais elle n`est pas suffisamment dévellopée. Le désarroi de Nancy face à ce qui arrive à son bébé de 13 ans est un peu survolé mais émouvant, là aussi. Est-ce bien utile de mentionner la présence de Silas et de Lisa ? Non. Quoique la scène de ventes de sandwiches était rigolote. Ca s`arrête là. Weeds, saison 4 sera terminée dans deux semaines. Il vaudrait mieux que ça se fasse sur une note positive ...
---
Réplique Mémo : "It's your job to threaten to shoot me, not to actually shoot me." Nancy à Ignacio.