16 juillet 2008

Weeds [4x o5] No Man is Pudding

Ce qui est bien avec Weeds, c`est que l`on ne sait jamais ce qui va se passer à l`avance. C`est toujours une suprise. Ces derniers temps, on était surtout tombés sur de mauvaises suprises. Cette fois, elle est plutôt bonne. Une page se tourne et on ne l`avait pas vu venir. Fini le deal pour cette chère Nancy Botwin. Bonjour les vêtements pour bébés et pour femmes enceintes ! Guillermo est plein de suprises, décidemment ! On sentait bien que cela cachait quelque chose de bien plus louche, une couverture. Effectivement ! On en saura plus la semaine prochaine, probablement. Voilà un cliff`qui donne envie de revenir. Ca faisait longtemps ! Deux scènes marquantes dans cet épisode : le dîner qui se transforme en grand pardon de Nancy à toute sa famille et à ses "amis". Extrêmement bien écrit et merveilleusement joué par Mary-Louise Parker. Mais aussi la scène cruelle et très limite de Nancy qui maltraite Celia. Celia faisait énormément de peine alors que ce n`est pas une oie blanche à la base, loin de là. La voir dans cet état m`a fait un choc. La dureté de Nancy à ce moment-là était à la fois fascinante et dérangeante. Je ne sais définitivement plus quoi penser d`elle. A travers son petit pitch sur sa vie devenue monotone, on comprend mieux pourquoi ce refus par le passé de rentrer dans le rang, de gagner de l`argent autrement que de manière illégale. Elle ne veut pas d`une vie ennuyeuse, elle a besoib d`aventures et de surprises constantes. Elle a besoin de jouer avec le feu. Mais elle a brûlé ses ailes ainsi que celles de ses enfants. Il est grand temps de recoller les morceaux, notamment avec Shane qui n`a jamais eu d`enfance, finalement. Weeds repart sur de nouvelles bases et c`est enthousiasmant ! On passera donc sur les storylines passablement ennuyeuses de Silas et les abeilles et d`Andy au pays des clandestins !
Swingtown [1x o6] Friends With Benefits

Secret Diary of a Call-Girl [1x o5] Episode 5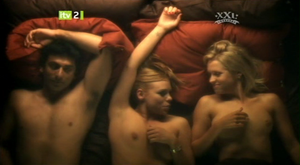 Arf. Mes reviews étaient plus faciles à écrire quand je trouvais la série nulle ! Second épisode correct où je ne me suis pas trop ennuyé, voire pas du tout, et où Belle/Hannah commence à devenir, doucement mais sûrement, attachante. Les dialogues avec son meilleur ami sont un peu mous mais ils ont le mérite d`être assez réalistes. Quand à la scène de threesome, elle me fait penser à cette chère Swingtown ! C`est là que la différence est flagrante entre ce que l`on peut faire sur le câble et ce que l`on ne peut pas faire sur les grands networks. Ainsi, cette scène est traitée sur le ton de l`humour (un choix judicieux) et va assez loin dans l`irrévérancieux en n`hésitant pas à montrer (avec toute la pudeur nécessaire bien sûr) Belle et sa nouvelle amie branleur leur partenaire. A part ça, cette nouvelle amie me semble très intéressante mais le problème est qu`elle paraît même plus intéressante que Belle ! D`ailleurs, elle est bien plus belle. Petit à petit, la série prend de l`épaisseur et ça n`est pas pour me déplaire.