29 août 2007
Filthy Rich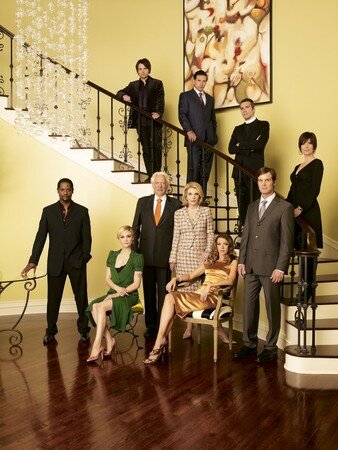 A défaut de pouvoir vous commenter le pilot PreAir (il n'est pas disponible sur la toile, comme de nombreux autres), je vais vous présenter une des séries les plus attendues de la rentrée à travers des bandes-annonces promo et le photoshoot de la saison 1. Mais d'abord un résumé made in AlloCiné.
Les Darling sont une des familles les plus puissantes de New York. Dans la droite lignée des Kennedy, ils ont l'argent, le pouvoir, des ambitions et une fâcheuse tendance à se retrouver dans des situations impossibles, à fricoter avec des gens peu recommandables… S'ils n'avaient pas Nick George, leur avocat, pour les tirer d'affaire, pour éviter la Une des magazines trash ou, pire, la prison, leur declin aurait commencé depuis bien longtemps. Pourtant Nick, avocat idéaliste, a longtemps refusé sa destinée : servir les Darling. Avant lui, son père s'était livré corps et âme à cette famille destructrice en devenant leur conseiller. Nick ne sait pas si servir les Darling est une chance ou une sentence…
Si Dirty Sexy Money est d'ores et déjà annoncée comme un succès (mais il faut se méfier ...) c'est avant tout parce que le casting de la série est prestigieux. On retrouve Peter Krause, un des héros de Six Feet Under, dans le rôle principal de Nick George (Merci ABC de recycler un autre acteur de SFU après Rachel Griffiths dans Brothers & Sisters) mais aussi Donald Sutherland (de nombreux films au cinéma et récemment vu dans Commander in chief), William Baldwin, Blair Underwood (LAX, Sex & the city) ou encore Samaire Armstrong (The OC). Du coté de la production, on ne retrouve pas n'importe qui : Greg Berlanti (Dawson, Everwood, Brothers & Sisters) et Bryan Singer (Dr House, Heroes, X-Men, Superman Returns ...)







Trois vidéos sont disponibles pour vous faire une petite idée de ce que donne la série : d'abord une bande-annonce, puis une promo intitulée Filthy Rich qui présente les intrigues principales et enfin une seconde promo nommée Meet the Darlings, qui comme son nom l'indique nous emmène à la découverte des membres de cette drôle de famille.
La série fera ses débuts sur ABC le mercredi 26 Septembre à 22h, la case qui n'a pas réussi ces dernières années à The Nine ou encore Invasion. Espérons que cette fois ci le succès sera au rendez-vous, la série bénificiera d'une diffusion post- Private Practice. Review du pilot quelques jours après sur ce blog bien sûr. Et vous, regarderez-vous ?